Higashiya on Ginza offers a version of afternoon tea that is inspiring, delicious and incredibly relaxing.
First, you should know that they consider themselves a Japanese confectionary shop, and whereas its true one could go to Higashiya merely to purchase their confections, you'd surely be enticed to sit for the afternoon trying some of their original tea blends and enjoying delectable foods and delightful sweets. You'll also enjoy watching the staff perform zen-like maneuvers making and serving tea.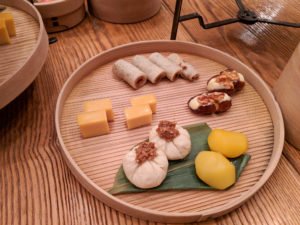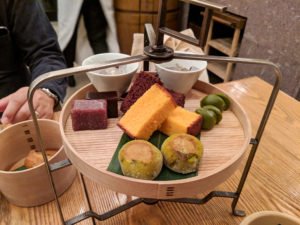 It's best to reserve a table to enjoy the full afternoon tea experience, but if you're just on your own or there's just two of you, you may have luck being seated at their counter. If you'd rather not try the whole afternoon tea experience, or rather just have a cup of tea and a couple of confections, the counter is your best option.
When you're seated, you'll be presented with a menu of numerous choices from small sets to grand extensive choices. Regardless of what you choose, you'll be delighted.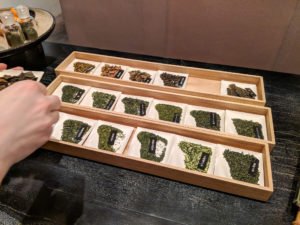 The menu will offer numerous tea choices, but I recommend you ask for the tea sample boxes. Not only will you be impressed by the presentation, but you'll be able to smell, see and touch the teas you might choose. The menu sets often come with two different teas and two pourings. Your server will pour hot water at the perfect temperature and steep at the perfect amount of time for each specific tea. How they pour the water, allow it to steep in the teapot and pour into your cup is like watching a well-choreographed performance.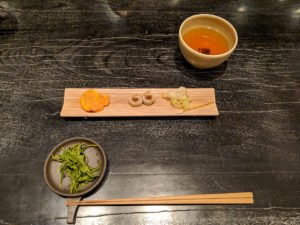 Regardless of what you ordered to eat, the presentation is like a work of art. A small sculpture presented and placed in front of you.
The room, a Japanese tea salon, is delightfully designed with warm tones, hardwood tables and comfortable chairs with a very unique design. It's well lit and quiet.
History and Philosophy
Higashiya began in 2003 in another location moving to Ginza in 2009. Higashiya was created by its founder Shinichiro Ogata with the intention of bringing traditional Japanese confections (wagashi) back to common daily use. Even the name is a combination of the word day and confection shop. In 2015, Ogata wrote a book about the shop and Ogata's philosophy that has inspired the shop's choice of teas, confections, and design.
Reservations
Reservations are easily made at this reservation link. There you can pick a date, number of people in your party, and read descriptions of several options of teas, foods, confections, and alcohol arranged in beautiful sets.
Location
Higashiya is on the second floor of the Pola Cosmetics Building in Ginza, on Ginza Street. The closest metro station is the Ginza-itchōme Station on the Yurakucho Line. If you exit at exit number seven, you will find yourself almost in front of the building. It is also no more than a 10-minute walk from Tokyo Station. Here is a handy link to a Google Map of the location.
Higashiya Ginza, Pola Ginza Building, second floor, 1-7-7 Ginza, Chuo-ku, Tokyo, 104-0061, Japan. Telephone number: 03-3538-3240.
Images, pricing, and reviews from Amazon Product Advertising API. Last update: 2020-01-26.