When most people think of Tokyo, they think of the maid cafes of Akihabara, the bustling pubs of Shinjuku, or the renowned Kaminari-mon of Sensoji Temple in Asakusa.
Who would've ever imagined a green space filled with vibrant flower chandeliers and whimsical candlelit garden paths existed within a mere 30-minute train ride from the concrete jungle of Tokyo? Not to mention perhaps the most photo-worthy Starbucks in all of Japan!
Enter Hanabiyori, a botanical garden run by the Yomiuriland amusement park. With a spacious outdoor garden filled with seasonal flowers, interchanging events for every season, an indoor greenhouse with projection mapping art, and DIY plant workshops, there is every reason to go off the beaten path and visit this flower park—and not just for the gram.
It's absolutely one of my favorite spots on the outskirts of greater Tokyo. Read on for a comprehensive guide with everything you need to know regarding tickets, access, and seasonal events.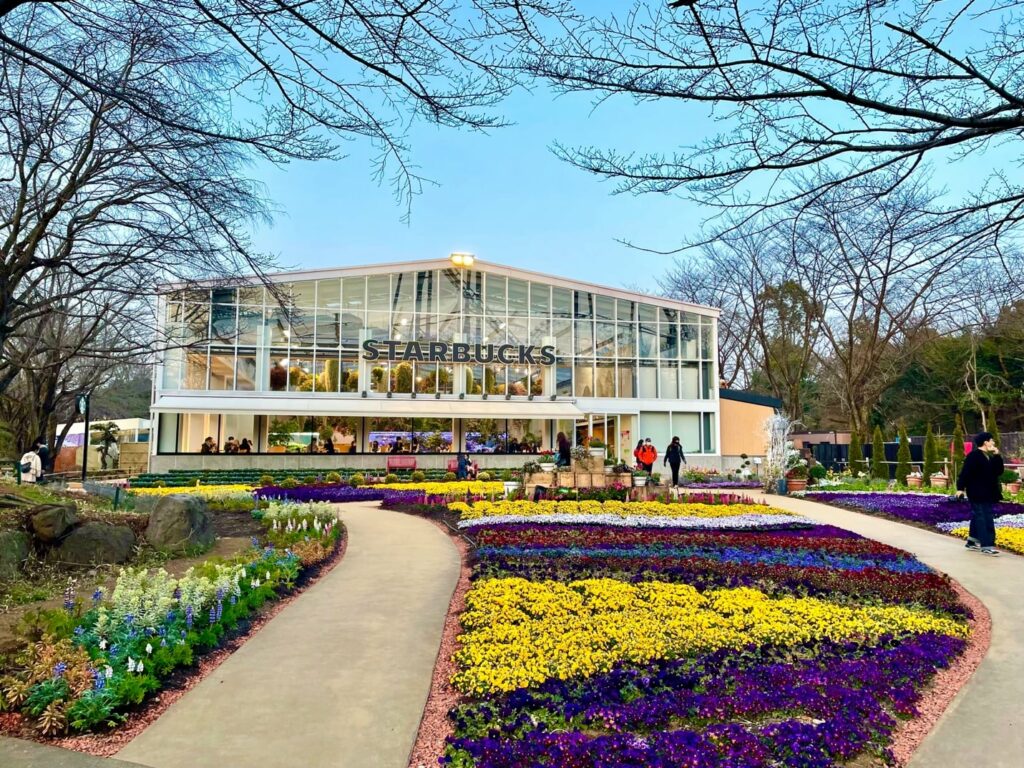 Attractions at Hanabiyori Flower Park
The main attraction is the gardens outside—with soft pink cherry blossoms in spring, dewy hydrangeas in summer, fiery spider lilies in autumn, and delicate Christmas roses in winter. The outside gardens are maintained year-round, and the indoor floral chandeliers are composed of an assortment of live flowers as well, including petunias, begonia, and fuchsia.
Flowers: Grammable Spot #1
When I visited the greenhouse, standing under the rich floral chandeliers, I felt as if I had walked into a fairytale. The fragrance of flowers, the explosion of color, the sound of trickling water— you really have to see it for yourself to believe it.
The greenhouse, which houses the Starbucks and the floral chandeliers, is made entirely of glass. The interior is naturally sunlit and airy, filled with lush greenery, a small fountain of flowers, and a tropical aquarium of colorful fishies.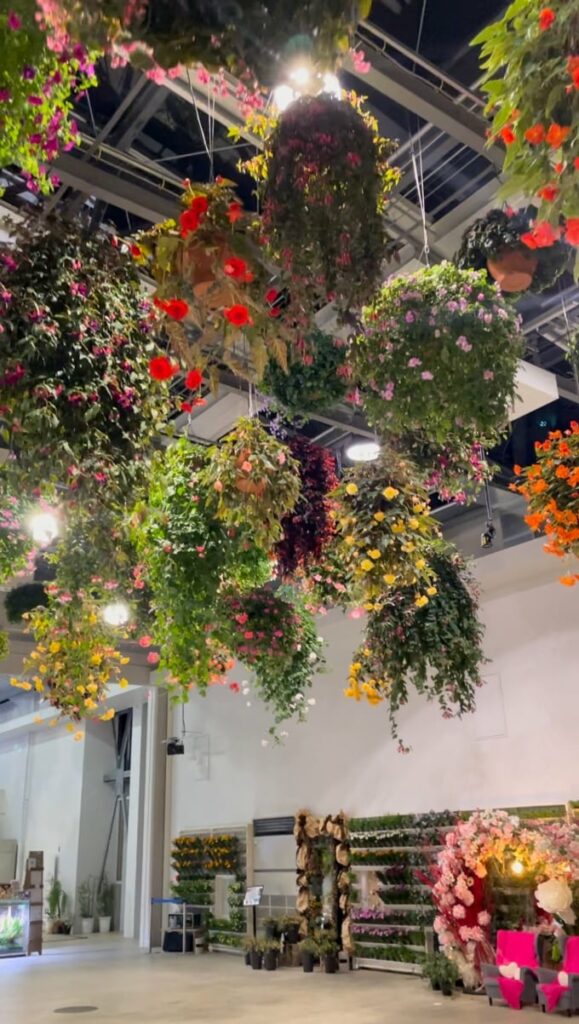 DIY Plant Workshop: Gramable Spot #2
There is also a store (Shop Charm) next to the Starbucks which sells all manners of succulents, dry flower arrangements, and decorative glass terrariums. You can also sign up here for a step-by-step DIY workshop to make your own terrarium or dry flower arrangement.
It costs around 3,500 yen for the lesson and raw materials, and once you finish, you can take your creation home.
An acquaintance and I made both a moss terrarium and a hanging succulent arrangement for a total of 7,000 yen. The teacher gives you creative free reign to pick three succulents, the color of the decorative rocks, and one other decoration. For the terrarium, you get to pick either a square or round glass container with a lid, one decorative element such as a rock or branch, colored rock or sand, and two different plants to go with the moss.
You'll be provided detailed instructions on how to take care of your terrarium/succulents, albeit in Japanese. English-speaking staff may be available depending on the shift as well.
There's no need to make reservations in advance, though spots are limited, so I recommend going early if you want to do the workshop.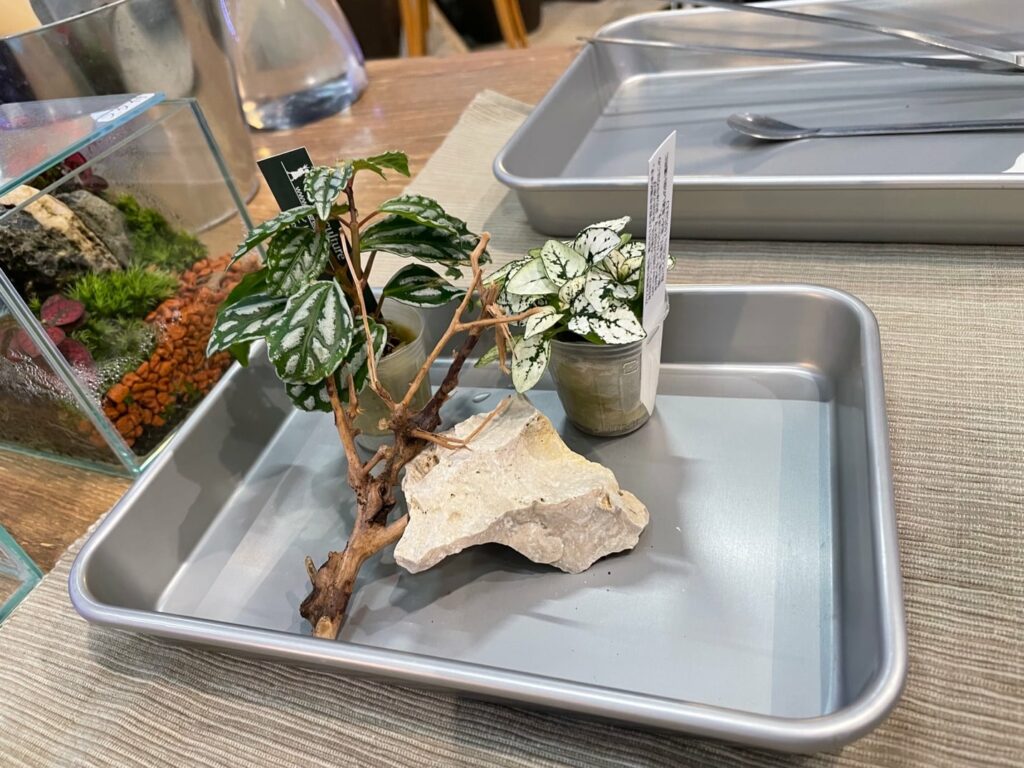 Projection Light Show & Small Critters Zoo: Gramable Spot #3
Every day, at specific intervals, a section of the greenhouse darkens and closes off for a light show of sound and digital flower projection mapping. It's similar to Team Lab's digital art museum in Odaiba, though on a smaller scale.
There is also a small petting zoo that has Asian Small-Clawed Otters that you can pay to feed. It's only open until 4 PM, so I couldn't visit because it had already closed when I arrived. According to the website, your best chances to see the otters should be between 1 PM and 3:30 PM.
Seasonal Events: Gramable Spot #4
At night, there are often nightly light-up events. In the spring, it's illuminated cherry blossoms, under which you can enjoy a glass of sparkling wine with a loved one.
But the most famous one, and the one most worth going for, is the bamboo illumination event called Hana Akari which runs from winter to early spring.
The outdoor garden paths are decorated with one thousand lit-up carved bamboo, arranged into various elegant shapes. The theme is "Wa," which translates to "Harmony" or "Japanese-Style."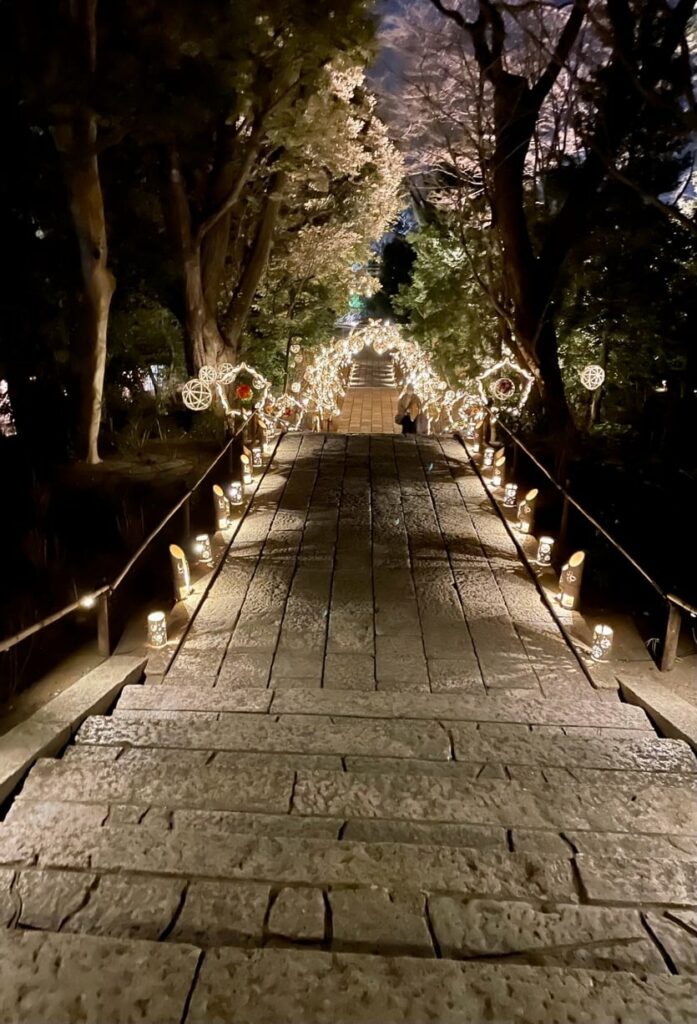 The pathways illuminated by the soft glow of the bamboo lanterns are enchanting and otherworldly and perfect for taking a romantic walk under the moon and stars.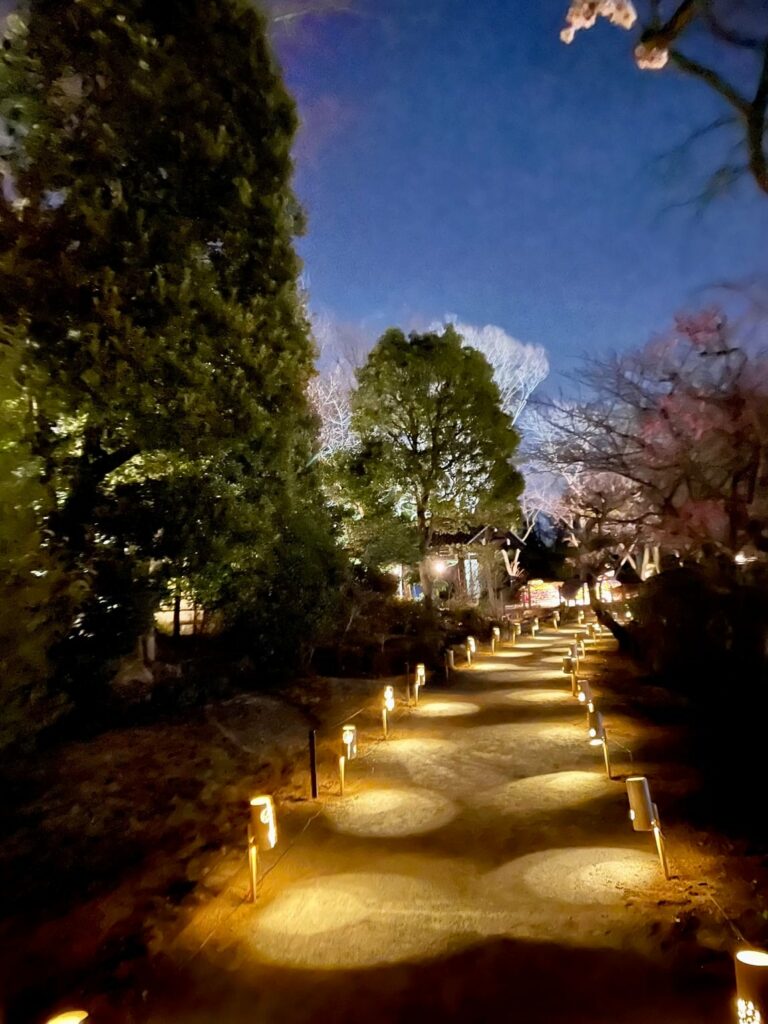 The bamboo illumination event Hana Akari is open from 4 PM to 8 PM from late October to early April, and there is an extra admission charge of 900 yen for adults and 500 yen for kids up to elementary school age.
*Note that illumination events are generally considered winter events, so from January to April 2023, the event is only open on weekends. For more information, check out the official website: https://www.yomiuriland.com/sp/hanaakari/
I went in the spring of 2022, right before the event finished for the year. From what I knew, it was supposed to be a limited-edition one-off collaboration event. But it seems they reopened it for winter 2022-2023, so they may still hold the event for the years to come as well.
Hanabiyori Ticket Price
Tickets are divided into full-day and nighttime entry. Full-day tickets are 1,200 yen for adults, and nighttime tickets are 900 yen. If you buy the tickets online as a Yomilan Club Member, you can receive a 100 yen discount.
There are also set discount tickets if you go to the Yomiuriland amusement park right next door; however, I think you can spend a full day just relaxing in Hanabiyori Flower Park, even without the tickets to the amusement park. The amusement park and flower park set tickets may be better for travelers with children.
Additional events such as feeding the otters and Hana Akari illumination cost additional fees.
Access
For travelers by train, the nearest station to Hanabiyori is Keio Yomiuri Land Station. The park entrance is about a 10-minute walk uphill from the station, though there is also a free shuttle operated by the park that runs every 15 minutes. I recommend taking the shuttle, especially if you're going in winter.
Below is a list of major train stations and the time it would take to get from each of them to Keio Yomiuriland Station, pulled from the park's official website:
Shinjuku Station: 25 minutes
Ikebukuro Station: 40 minutes
Tokyo Station: 45 minutes
Shibuya Station: 35 minutes
Shinagawa Station: 50 minutes
Haneda Airport St.: 75 minutes
Narita Airport St.: 120 minutes
For travelers going by car, there is a dedicated parking lot for the park's use. The parking fee is free for 2 hours, then 300 yen/30 minutes, up to 1,500 yen per day maximum. You get one extra hour of free parking if you spend more than 1,000 yen at the Starbucks or the souvenir shop (Shop Charm).
Conclusion
Hanabiyori Flower Park is undoubtedly one of the most beautiful and magical places I've been to in Japan. If you want to get away from the hustle and bustle of the city for one day and spend some downtime surrounded by flowers, art, and illuminated bamboo lanterns, I highly recommend taking the train ride there. (Of course, all the photo-worthy spots are also a nice bonus!)
Everything in the article is correct as of March 2023. Prices, events, and shuttle times may be subject to change, please check the official website before visiting.